King Long Shines at the Thai Culture & Food Festival
2017-05-24
From May 11 to 15, 2017, the colorful Thai Culture & Food Festival was grandly held in Xiamen City. This grand festival features tasty Thai food, wonderful Thai boxing show, superb collection of Thai handcrafts and other items, bringing a great opportunity for Xiamen citizens to experience the charm of Thailand at home.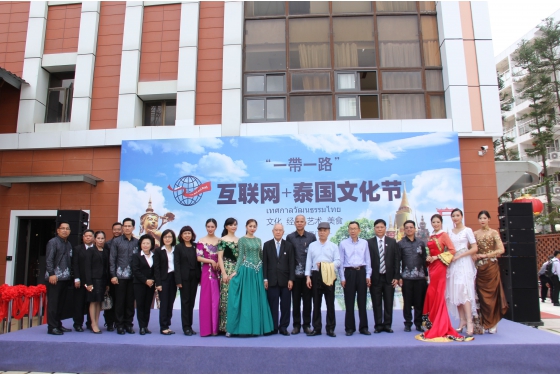 The Royal Thai Consulate General in Xiamen, Thai-ASEAN 6 Business Promotion Association and Foreign and Overseas Chinese Affairs Office of Xiamen Municipal Government co-hosted the event, in order to facilitate the deep exchange of cultures, economic trade and other fields between China and Thailand. During the festival, the "Road and Belt" Initiative Sino-Thailand Economic and Trade and China-ASEAN Cultural Forum were held, centering on the discussion of opportunity and prospect of economic development between parties from the implementation of the "Road and Belt" Initiative.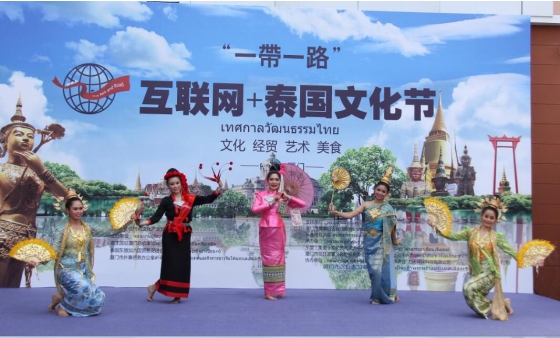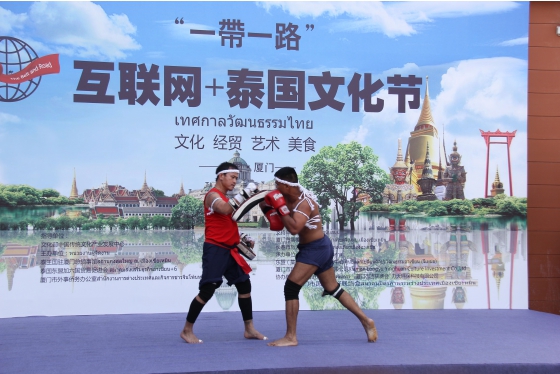 Both Xiamen and Thailand are important nodes along the Maritime Silk Road in the history and enjoy long history in economic, trade and cultural exchange. Xiamen have actively integrated into the "Belt and Road" Initiative and promoted its communication with Thailand by continuously strengthening the exchange and cooperation in such fields as economic trade and culture between both regions. The cooperation between King Long and Thailand emerged on the occasion of such initiatives, becoming a highlight among economic and trade partnerships between both regions under the "Road and Belt" Initiative.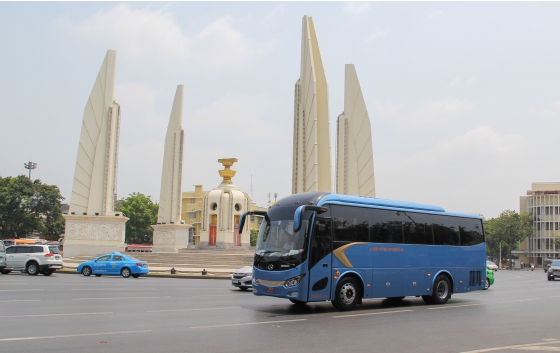 King Long Coach Running on the Street of Thailand
In recent years, an increasing number of visitors to Thailand brings broad development space for local passenger sector of Thailand. Boasting aesthetic appearance, higher comfort and excellent quality, the luxury King Long tourist coaches occupied the local markets of Thailand. Since was exported to Thailand in batches in 2011, this bus model has run through the Thailand up to nearly 2,000 and become the main backbone of tourist coaches in this country. To some extent, King Long coaches witness the economic and trade cooperation and mutual benefit between parties. It is for this reason that King Long coaches were designated as the special transportation tools for this event, providing commuter service for guests, staffs concerned.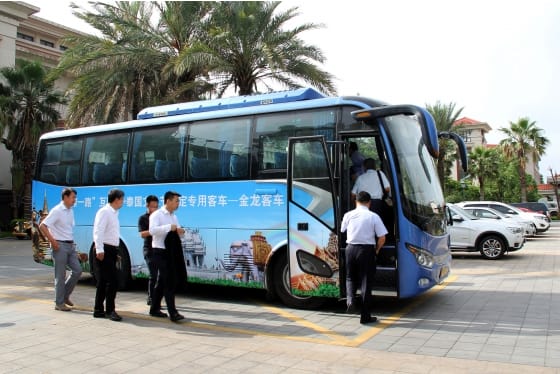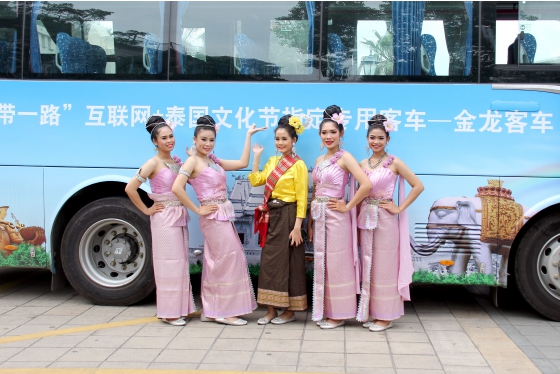 King Long Pure-electric Coach Series Service the Thai Culture & Food Festival
"We frequently encounter the King Long coaches in Thailand." In foreign countries, the familiar King Long buses make us feel at home and narrow the distance between us and Thai friends. The King Long pure-electric coach series offer commuter service for guests and staffs of this event, providing different travelling experience for passengers by its advantages of quiet and environmental features.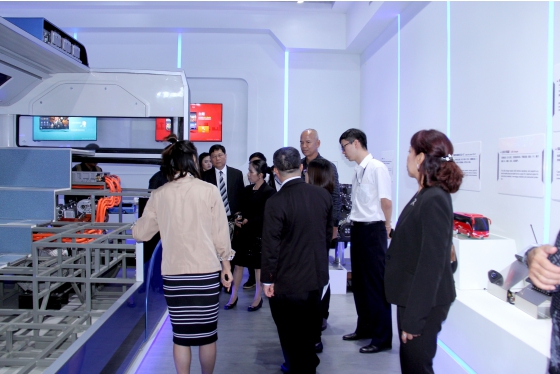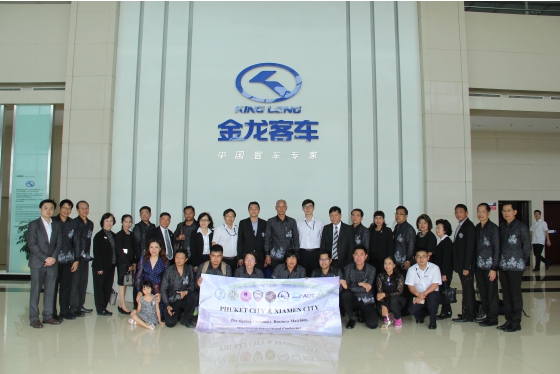 Political and Business Leaders, Enterprise Representatives and Other Guests from Phuket Visit the Kong Long Coaches on Display

Not merely taking the King Long coaches in the foreign countries, guests of all walks of life get in these coaches to experience the charm of "Made in China". On May 12, Mr. Mr.tajtai Tmangraksat and Mr. Mongkol Sinsomboon, respectively as Consul-General and Deputy Consul-General of the Royal Thai Consulate General in Xiamen accompanied by their panel, comprising more than 30 delegates from the governments and enterprises of Phuket, paid a visit to the King Long coaches on display. Present delegates were deeply impressed by the advanced manufacturing processes and world's leading "intelligent" manufacturing of King Long coaches. "We greatly hope that there are more and more quality King Long coaches providing services for Thai people."
Although the Thai Culture & Food Festival has concluded, amazing stories of cooperation and mutual benefits between China and Thailand and even with other countries under the "Road and Belt" Initiative will be sustained.