King Long Won State Honor for its Contribution to Integrated Development of Manufacturing and Internet
2017-07-14
Recently, China's Ministry of Industry and Information Technology (MIIT) released a list of demonstration projects which seek the integration of manufacturing and internet. King Long is among 70 companies in the list with its "Product Whole Life-cycle Management". It is also the only bus maker in China that can be found in the list.
King Long's "Product Whole Life Cycle Management", as an industrial big data service platform, aims to build a product whole life cycle management platform for enterprises in the automobile and mechanical engineering industries. With the system, enterprises can better manage their information about the development & research of their products, their production, sales and maintenance. In the meantime, they can easily do the trouble shooting work and manage their data, providing high value services to their customers.
According to King Long, its "Product Whole Life Cycle Management" system consists of King Long cloud system and seven information management platforms, such as strategic planning, product development & research, marketing, production management, supply chain management, financial management and internet of vehicles.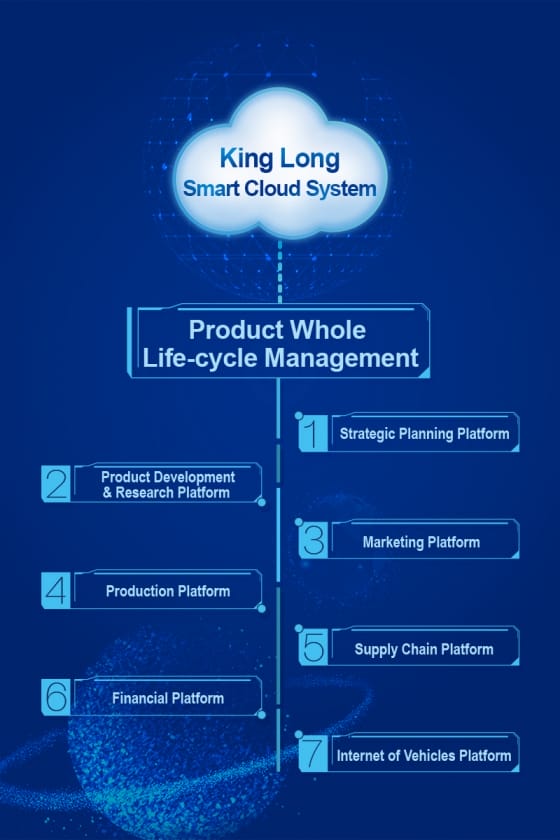 Smart manufacturing is the sure way out for China's enterprises in the manufacturing industry. Eight years ago, King Long started its transformation which focuses on technological innovation. So far, it has made many impressive achievements. In 2015, King Long's "Product Whole Life Cycle Management" gained the recognition from Fujian province and the company was selected as the smart manufacturing demonstration enterprise. Early this year, the company was chosen as the service-oriented manufacturing enterprise in Xiamen.
Today, manufacturing is still the pillar of China's economy. Thus, it is the main battle field in the era of "Internet ". The automobile industry, with its massive scale, is the key area for the success of the manufacturing industry's transformation.
With the intensified competition in the new energy bus industry in China, bus makers must take advantage of the internet to transform themselves into service-oriented manufacturing enterprises. In this process, both the big data and the cloud platform play important roles.