Green Transport during BRICS Summit Promotes Environmental Protection —242 KING LONG New-energy Buses are delivered to Xiamen Public Transport Group
2017-07-28
On July 16, 2017, the launch ceremony for operation of pure electric buses between Xiamen Public Transport Group and King Long Motor Group kicked off at T4 bus station in Gaoqi of Xiamen, China. A total of 242 KING LONG buses were delivered to Xiamen Public Transport Group for official operation.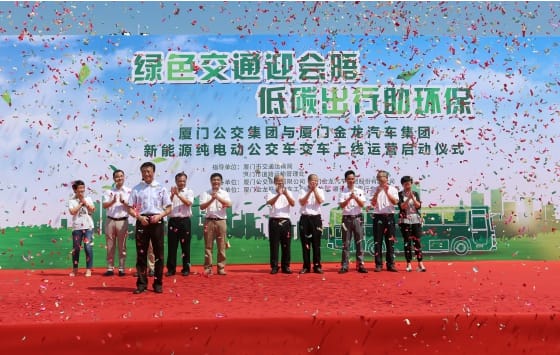 This batch of new-energy buses, being the key guarantee project during Xiamen BRICS Summit, is aimed at providing smooth transportation for citizens and guests from around the world, building a safe, convenient, efficient, low-carbon and economic green ecological public transport system and wrapping up the transportation support task during the BRICS Summit.
The new energy buses, launched in the first batch, are pure electric buses painted with refreshing blue resembling the beautiful "Xiamen Blue". Featuring simple appearances, modern elements, and clean and tidy interior compartments, the buses offer upgraded riding comfort with better appearances. Lin Rongsheng, General Manager of the Public Transportation Group, said, "The new-energy bus boasts irreplaceable advantages in tail gas control, energy conservation and environmental protection, making it an important power in accelerating sound and fast city development, energy-saving and environmental protection. In addition, the new-energy bus will greatly improve travel conditions of the general public as well as further promote the civilized image of Xiamen."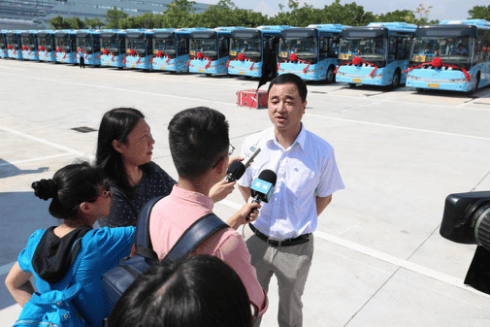 Ban Tao, Domestic Marketing Director of KING LONG, was being interviewed
Pure electric buses delivered in the first batch include KING LONG "City Light" XMQ6850G pure electric bus. According to Ban Tao, Domestic Marketing Director of KING LONG, XMQ6850G pure electric bus is a new knock-out product of KING LONG as a respond to the new trend of new-energy bus market. The high-power and high-performance permanent magnet synchronous motor equipped, featuring low noise, enables an efficiency of up to 96 %. Given the large passenger volume of buses, bus body of XMQ6850G is greatly optimized in design and spatial distribution, providing enlarged passenger room and improved riding comfort. Meanwhile, with optimized battery layout, the battery life is extended. Furthermore, the complete vehicle structure of the model receives optimization analyses and tests, including CAE analysis of frame strength, dynamic stability analysis, rear collision protection of vehicles and relevant simulated tests, guarantying safe operation of pure electric vehicles.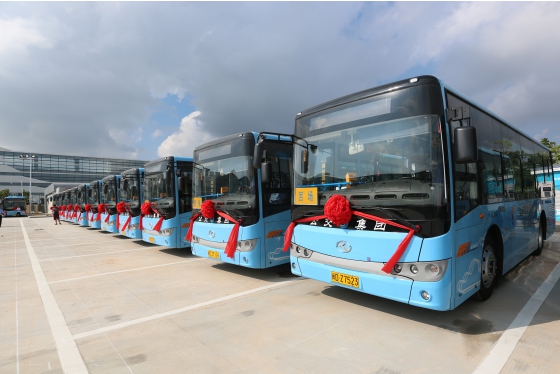 The operation of XMQ6850 in Xiamen is not its "first show", as King Long has received the batch orders of XMQ6850 from Fuzhou, Fu'an and Putian of Fujian, Hangzhou of Zhejiang and other places. By virtue of operation performance characterized by safety, comfort, environmental protection and energy conservation, XMQ6850 gains recognition of users and passengers. It is worth pointing out that XMQ6850G pure electric bus is so quiet during operation that passengers at the station even neglect its arrival. Therefore, buses in Fu'an are specially provided with arrival bells, while the delivered models in this batch are equipped with engine sound simulators.