King Long Rolls Out High-end KINGO K6
2014-08-26
On Aug. 25, Xiamen-based King Long rolled out a high-end business coach KINGO. With ultra-long axle, the coach K6 is the company's new generation of mini-van. Since its high-profile debut, King Long KINGO has been targeted at the high-end mini-van market. Boasting large interior space, strong power and uniquely fashionable appearance, the vehicle has become a new fist product of the vehicle maker quickly and has won wide market recognition. In the face of the new logistic and traffic trends, King Long's R&D team has been conducting in-depth market research. Its KINGO K6, with ultra-long axle, is specially designed to meet the customers' needs.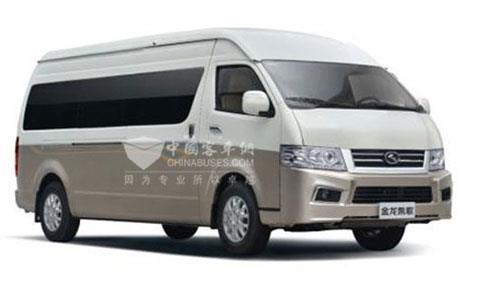 As an important member of King Long's mini-van product line, KINGO K6 luxury mini-van is a creation inspired out of the 26 years' professional vehicle making history of vehicle maker. With further upgraded interior space, the vehicle has gone through a series of stringent testing before its debut and delivers impressive performances with high stability.

Based on 5.4-meter KINGO model, KINGO K6's axle has been extended by 610 mm. Because of this, the mini-van is mounted with 18 seats with spacious room for each passenger. With streamlined body structure, awe-inspiring front, internationally advanced LED technologies, and strong bumper mounted before its fashionable frontal appearance, the vehicle immediately creates a sense of security for its passengers.