King Long Joins the 18th CIFIT in Xiamen
2014-09-10
After successfully serving APEC the Fourth Oceanic Ministerial Conference and the second Youth Olympic Games, King Long is designated as the official vehicle for the 18th China International Fair of Investment & Trade (CIFIT). During the high-profile event, the company is shouldering the task of transporting politicians, entrepreneurs, businessmen and other distinguished guests from various parts of world.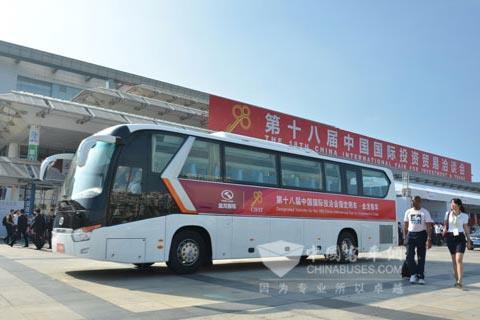 It is reported King Long has served in the CIFIT for thirteen consecutive years. While witnessing the fast expansion of the event in scale, the bus maker is playing an increasingly important role during the event. This year, participants from various government organizations, enterprises and other institutions from 50-plus countries and regions, including the UK, Germany, Brazil, India, and Egypt, etc. have registered to take part in the fair. To better serve the guests, twenty units King Long large- and medium-sized buses, the largest bus fleet in history, are sent by the bus maker to provide the transportations services during the event.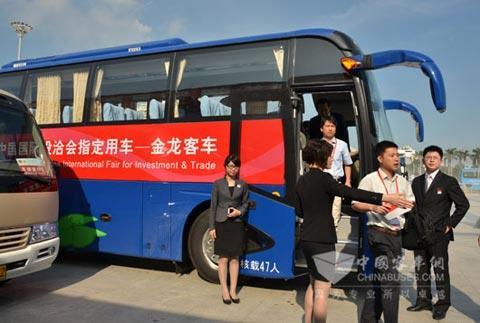 To ensure the smooth operation of its bus fleet, King Long sent its classic bus models for shouldering the honorary transportation task, including medium-sized Jieguan series and large-sized Longwei series. In addition, the company has launched 24-hour after-sale services to make sure smooth transport flow during the event.

As a leading bus brand in China, King Long has always been the top choice for various high-profile international and domestic events. To date, it has played a significant role in CPC and CPPCC, 2008 Beijing Olympic Games, Shanghai World Expo, and 2012 London Olympic Games, etc. Recently during the second Youth Olympic Games held in Nanjing, a total number of over 1,400 King Long buses were put into operation. The King Long bus fleet has delivered reliable transport services and impressive after-sale services, winning the gold medal outside the sports arena.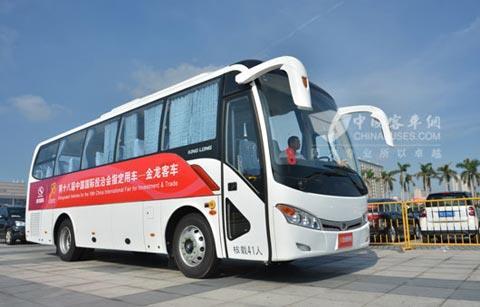 The appearance of King Long at various conferences and events held both at home and abroad fully demonstrates the strength and market presence of the bus brand. After 26 years of development, King Long has become a well recognized bus brand in China and has expanded its market to 102 countries and regions. For the last three consecutive years, the company has realized an annual sales revenue of over two billion RMB, taking the lead among its counterparts.