313 King Long Buses are Exported to Iraq
2015-01-08
On Jan. 6, 2015, a total number of 313 units King Long buses were put on the ship at Xiamen Harbor, ready for their shipping to Iraq. As an important milestone in China's bus-making industry, the deal also marks a new beginning in the history of Sino-Iraq trade relations.
According to Li Peng, Sales Manager of King Long in West Asia Region, Iraqi government has set very stringent standards for its purchases. At the initial stage, it sent a special team to visit King Long. Since the bus maker made its first entry in the Middle East market as early as 2004, the company has already set up quite a noticeable presence in that area. Moreover, King Long's popularity has been on a constant rise. So far, it boasts a sizable bus fleet in Iran, Iraq and other nearby countries.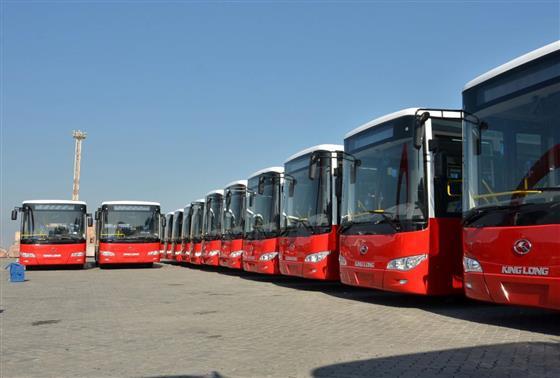 At the delivery ceremony, a number of officials in charge of the national transportation service were present to witness the historical moment and they all spoke highly of King Long buses. One official was quoted saying "I am deeply impressed by King Long's design, quality and after-sale services. I can't wait the brand new bus fleet to arrive in our capital and serve our people."

Since the implementation of its overseas marketing in 2000, King Long has established its presence in over 100 countries and regions across the globe. Moreover, it has set up 50-plus authorized agent and service stations, making itself the leading bus exporter in China.

In the face of the cut-throat competition in recent years, King Long managed to make impressive achievements. In recent three years, its overseas sales have been on a steady rise, with an annual overseas sales income over two billion RMB. While maintaining its leading position in the Middle East and European markets, it has also made historical breakthroughs in South America, Russia, Thailand, and Southeast Asia.

King Long's success in the overseas markets can be mainly attributed to its state-of-art bus making technologies and comprehensive after-sale services. To meet the special road conditions and demanding weather conditions in Iraq, King Long has paid special attention to its vehicles' air-conditioning systems, air-proof ability and noise reduction capacity. Moreover, it has further strengthened its vehicles safety standards to meet the complex operation conditions.

In view of its development in 2015, Xie Weiguo, King Long's overseas marketing director says "Despite of the challenges, we will continue to adhere to our overseas marketing strategies and intensify our R&D efforts to further boost the quality of our products. By speeding up the establishment of our overseas marketing networks, we hope to provide our customers with more comprehensible services and realize the historical transition of China's bus export to the overseas markets."
Source: www.chinabuses.org