King Long Seeks Innovative Overseas Expansion
2016-08-16
Recently, the fourth King Long bus route was officially launched in La Paz, the capital city of Bolivia, marking a new step forward for the bus maker in its overseas expansion. The operation of the new bus route not only means the introduction of King Long buses, but also an upgrading in King Long's overseas expansion from pure bus export to the provision of transport solutions. Wu Yuanshan, Chinese Ambassador to Bolivia, took an interview and spoke highly of King Long's marketing strategies in its globalization.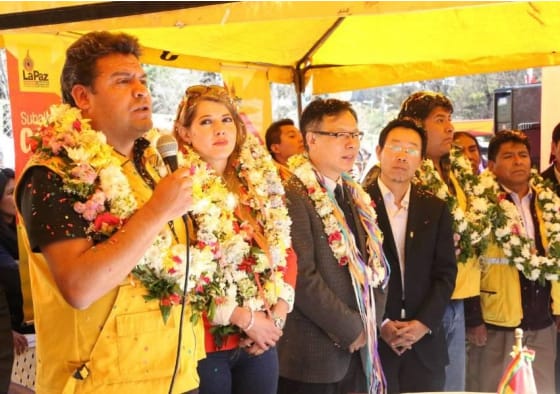 Luis, the mayor of La Paz(Left 1) announced that the fourth king Long bus route launched
In January, 2014, La Paz launched its first King Long bus route, which was greatly welcomed by local citizens. So far, with the operation of the fourth bus route in the city, all city buses for public transportation, reaching over 100 units in number, are now branded with King Long. The high safety standards, a lot more travel comforts and high efficiency brought by King Long bus fleet have already won the heart of many local citizens, including Luis, the mayor of La Paz.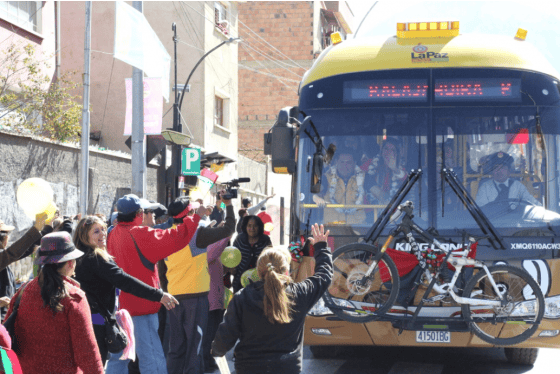 Media and local citizens crowded around the King Long bus
In the face of a number of challenges, such as high altitude and unsatisfactory road conditions, King Long's technical & engineering team has done a lot of work, making buses readily adjustable to the local special operation conditions. In addition, each King Long bus is painted with the local totem, a leopard head with a snake body. "Every detail has been given the highest possible attention by King Long, which is way beyond what we have expected," says a bus engineer from Bolivia. So far, King Long's first batch of 61 units buses have been working smoothly for 300,000 kilometers in the country.
Not only in Bolivia, King Long public transportation solutions, which are specially tailored for its customers, have also been well received in Thailand. So far, the bus maker has a total number of 2,000 units buses in operation in the country. As a popular tourist destination, Thailand has always set stringent standards for bus import. To work well and gain popularity in the market, buses must be able to overcome a host of challenges, including the year-long scorching heat and common slopes. In addition, buses must have competitive strengths in power and consistency in performances.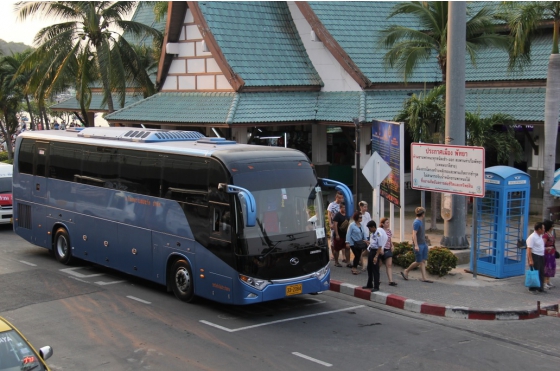 King Long bus operates in Pattaya, Thailand
Now, the rising popularity of King Long public transportation solutions speaks volume of company's success in overseas expansion. In earlier half of 2016, against the backdrop of a sluggish global economy, King Long still delivered an impressive performance. Its export volume of all buses reached nearly 5,000 units in total from January to June, ranking the first place in China.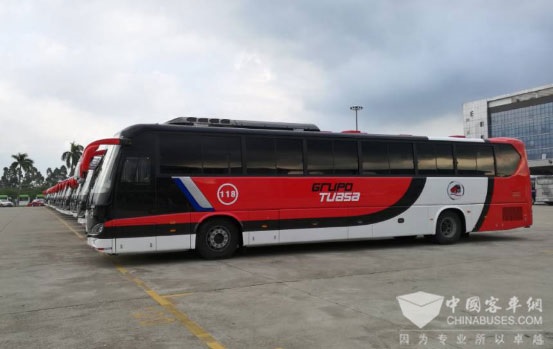 King Long bus exported to Costa Rica
In July, 101 units King Long luxury coaches were exported to Saudi Arabia, further strengthening its presence in the Middle East. In August, 50 units King Long buses were delivered to Tunis, making a new breakthrough in the North African market. By the end of August, another batch of King Long buses will be shipped to Costa Rica, making its total number reaching nearly 200 units in the country.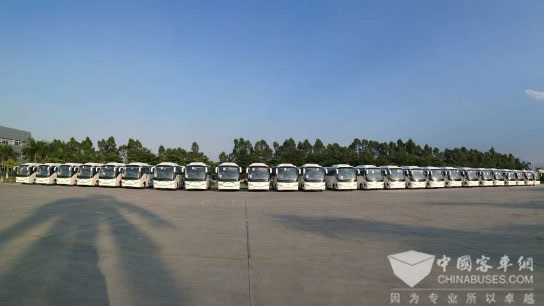 The delivery of another batch of King Long to Tunis signifies a new breakthrough
"Since 2000, King Long has been working continuously to seek a unique road in its globalization. By constantly improving the performances of our vehicles, bettering our production techniques, producing tailored products for our customers, providing financing solutions to our customers, rolling out a whole package of public transportation solutions, we have blazed a new trail in overseas marketing with King Long characteristics. Focusing on vehicles and passengers, we have successfully overcome a host of difficulties and challenges and we are confident to lead China's bus manufacturing industry to a wider and larger global market," says Simon Xie, Overseas Sales & Marketing Director from King Long.